The best weather of the year in Pawtucket is typically between mid-June and mid-September. Summer temperatures are generally mild, usually averaging around 82 degrees Fahrenheit. So, roofers have several months of excellent working conditions to perform their roofing jobs. Although roofers can perform roofing tasks all year long, outside of the warm months, installing roofs in Pawtucket can be a bit tricky. Rain, snow, hail, and freezing temperatures can interrupt any roofing project at a moment's notice. But can roofers work in the rain in Pawtucket or other harsh conditions?
The simple answer is "no." Weather conditions won't keep Pawtucket roofing contractors from doing their work. After all, if they only work within the time between mid-June and mid-September when the weather is optimal, they will only make money four months out of the year. Instead of avoiding the harsh weather, roofers must brave the conditions, taking precautions to stay safe and warm from the cold. Although many roofers courageously face lousy weather, they aren't superheroes. Some weather conditions simply aren't safe for them to work in, no matter how much they would like. Here are a few weather exceptions in which roofers likely will not be able to work on your roof:
These types of weather activities are detrimental to anyone. Therefore, it wouldn't be wise for anyone to be outside during such bad weather. However, outside of these extreme weather parameters, roofing contractors can work at any time and can also work on your roof during emergencies. 
Why Roofers Shouldn't Work in The Rain
If it is raining, the apparent reason why a roofer can't proceed with a roofing project is that it is wet. The rain can cause many problems, particularly slips and falls, due to the slipperiness of the roofing material and the slope of the roof. According to the Occupational Safety and Health Administration (OSHA), roofing workers have the right to "working conditions that do not pose a risk of serious harm." Therefore, the roofing team will stop operations should they determine that working in such conditions could cause a hazard. 
It's also a good idea that roofers don't work in the rain, especially if they aren't insured. Hopefully, as a homeowner, you have done your due diligence and have made sure that the company you have hired has proper insurance. However, if they don't and an injury occurs from hazardous conditions caused by rain, you may have to pay the medical bills for the roofers. 
Another good reason that roofers should suspend work when it is raining is because of the roofing material itself. The roof is a very moisture-sensitive area of the house. Therefore, it is critical that the roof decking remains as dry as possible. If the roof decking gets wet while roofing material is being installed, this could create moisture problems with the new roof. Therefore, this is another good reason why roofing companies shouldn't proceed with roofing projects while it is raining. 
Windy Weather May Also Present a Problem
Aside from wet weather, windy weather may also threaten a roofing crew. Although the wind may not seem like a threat, for a roofing team working high up on a sloped roof, this can create a very hazardous situation for workers. Since there isn't much for roofers to hold onto while on the roof, gusty windy conditions can blow them right off, causing an injury. It can also blow the materials off the roof as they are working. According to OSHA, high winds are winds that are between 30 and 40 miles per hour. Winds at such a high velocity could create hazardous conditions for roofing workers. If the wind gusts are too high, a roofing team may have to call off the project for the day and resume on a less windy day. 
Working on Roofs In The Winter
As long as it isn't snowing and the roof isn't buried in a blizzard, a roofing company should be able to complete your roofing job in the winter. They will have to take precautions with winter work, however. This is because the materials used during installation could be vulnerable to lower temperatures. For instance, asphalt may break at lower temperatures. Therefore, a roofing company can only install them when temperatures are above 40 degrees Fahrenheit. On the other hand, roofers can install metal roofs at any temperature. Also, roofing projects in the winter may take much longer than during other seasons.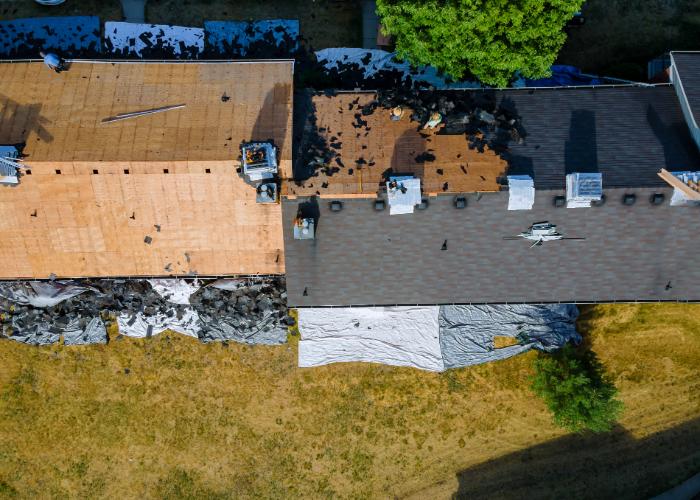 If you are looking for a roofing company that works year-round, count on the experts at The Pawtucket Roofers. For 20 years, we have provided outstanding roofing services to Pawtucket and neighboring cities of Central Falls, Lincoln, Smithfield, Cumberland, and East Providence. Our team performs various roofing services, including roof inspections, roof repair, roof replacement, and more. We also use the best roofing materials available. Our team also provides 24/7 emergency roof repair if you have a roofing emergency. So whether it's hot or cold outside, contact us today so that we can get started on your roofing project. Call (401) 214-6088 to speak with one of our friendly roofing experts and get a FREE quote on our roofing work in Pawtucket.